Post-conference Note (Updated on 29 January, 2005)
We are pleased to announce the publication of our post-conference collection of revised papers by Springer, as Vol. 3248 in the Lecture Notes in Computer Science series, subseries Lecture Notes in Artificial Intelligence. Place your order before 5 February 2005 to enjoy a 50% discount from the list price! Don't miss the chance!
Please download the order form in any one of the following formats and have it completed and returned to us by email or fax 852-27889734, latest by 5 February 2005.
For enquiries, please email to ijcnlp04.book@cityu.edu.hk
---
March 22-24, 2004
Sanya City, Hainan Island, China
http://www.cipsc.org.cn/IJCNLP-04/
---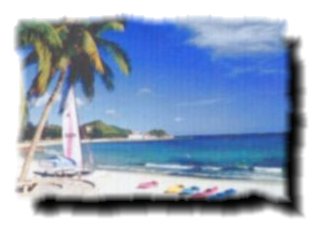 The 1st International Joint Conference on Natural Language Processing (IJCNLP-04) is organized by the Asia Federation of Natural Language Processing (AFNLP) to celebrate the inauguration of the Federation on the beautiful Hainan Island, China, on March 22-24, 2004.
Local Host: Chinese Information Processing Society of China
Sponsors:
Association for Computational Linguistics (ACL)
Association for Computational Linguistics and Chinese Language Processing
(ACLCLP)
Association of Natural Language Processing (ANLP)
Chinese Information Processing Society of China (CIPS)
Chinese Language Computer Society (CLCS)
Korean NLP Society (KNLP)
Additional contributions solicited by CIPS:
National Natural Science Foundation of China
Fujitsu R&D Center Co., Ltd.
Institute of Automation, Chinese Academy of Sciences
Microsoft Research Asia
NEC Laboratories, China
Peking University
TRS Information Technology Limited
Tsinghua University

Enquiries can be sent to ijcnlp04.enquiry@cityu.edu.hk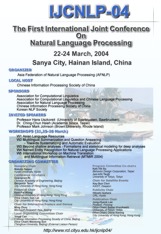 Conference poster (A4 size) can be downloaded by clicking this thumbnail.

News
Workshop 2 is cancelled. For details please read here.
Details and registration of airport pickup service are available here.
Social programs are prepared for you. Details here.
We accept accomodation booking until 29 Feb. Please check Registration.
Please take note of the following important dates.
Tutorials:
March 21, 2004
Main Conference:
March 22-24, 2004
Workshops:
March 21,25-26, 2004
Updated: January 29, 2005