Sapporo Convention Center
(Higashi-Sapporo, Shiroishi, Sapporo)
The Sapporo Convention Center is scheduled to be completed in December 2002 and officially open on June 1, 2003. So this conference will be the formal opening of this new convention center. This convention center will be completed in December 2002. Sapporo is now preparing for the establishment of the Center as a state-of-the-art facility exclusively for conventions, utilizing the expertise and experience acquired through holding international conferences/conventions.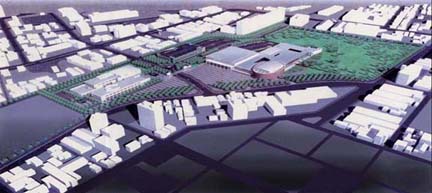 The center houses a main hall accommodating 2,500 people (3,000 m2; it can be divided into three), 17 conference rooms accommodating 30 to 400 people, a reception hall, a restaurant, Japanese-style rooms and a business center. It has been designed to fully accommodate large-scale international academic conferences.